Public Eye (Earth-928)
Talk

0
137,795pages on
this wiki
Affiliations
Bucknow, Danko, Deni, Jake Gallows, Menen[1], Officer Kovalicik, Tamoff[1], "Chief" [2], Kerry Dowenn, Randy [2], Commissioner Bennelli [3], Fearmaster (Darryl King), Anne Robyns[4], Matt Axel, Officer Spinks, Zandra[5], Gold Heart, Baldur Gallows, Mr. Sampson [6], Lieutenant McGruder [7], Sergeant Seth [8], Estavez[9], Sarge[9], Malik[9], Sergeant Rico Estevez[10], Puglisi [11], Tiger Wylde [12], Lieutenant Flynn[13]
Origin
History
The police force owned by Alchemax. And I'm not sure which is more corrupt!
The Public Eye police the streets of Nueva York, but are far from law enforcement, they are crooked, armored officers.
The Public Eye act both as a militia for Alchemax, on Earth but also on the Mars mining colonies, and as a remunerated police-force for the public, without caring about the grief. In this optic, rich people such as black-carders weren't targeted or arrested.
One of their mission is to take down the Punisher, because of his free actions, the opposite of the Public Eye's policy: Police's services are non-free, and attacking black-carders criminals.[1] They charge Jake Gallows to take down this vigilante, unknowing he's the Punisher.
They were commissioned by Alchemax to take down the former CEO of ECO Corp, Paul-Philip Ravage.
When Doom successfully take-over USA, he disbands all police force to gather them into one: the SHIELD, and intended to put the Punisher at his head.[2][3]
Members
Bucknow (Earth-928)
Bucknow refused to answer a distress call from a neighborhood with no security cover.[4]
Danko (Earth-928)
Danko was one of the agents who descended into Downtown to capture Spider-Man.[5]
Deni (Earth-928)
Deni was a Public Eye flyboy.[4]
Estavez (Earth-928)
Estavez was a Public Eye flyboy.[6]
After he was injured by Spider-Man, he was kept away from action.[7]
Flynn (Earth-982)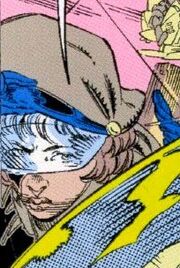 Lieutenant Flynn was in charge of a patrol of flyboys who attempted to capture Spider-Man[8]
Malik (Earth-928)
Malik was a Public Eye flyboy.[6]
Kovalicik (Earth-928)
Officer Kovalicik was attacked by Palug.[9]
Puglisi (Earth-928)
Puglisi was defeated and knocked out by Spider-Man.[10]
Seth (Earth-928)
Sergeant Seth escorted Tyler Stone to Miguel O'Hara's apartment.[11]
Spinks (Earth-928)
Officer Spinks ordered his men to rush the Punisher.[12]
Zandra (Earth-928)
Zandra was the Public Eye headquarters receptionist.[13]
Paraphernalia
Equipment: None known.
Transportation: None known.
Weapons: None known.
Notes
Trivia
See Also
Links and References
Footnotes