Plague (Earth-616)
139,277pages on
this wiki
Talk

0
10th Anniversary
of the Marvel Database

A Special Message from Stan!

---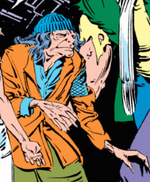 Plague was a mutant who had the ability to magnify and spread disease. As a Morlock, she served Callisto loyally. Plague's touch was potent enough to make Kitty Pryde fatally ill even in her intangible state.[1]
Plague was present during the massacre of the Morlocks by the Marauders and was terrorized by Sabretooth, who was unaware of her ablilites. One touch and Creed was weakened and might have died if not for his healing factor. Apocalypse arrived and saved Plague from the massacre, stating that he had plans for her to serve him as the Horseman Pestilence.[2]
After being transformed into Pestilence, Plague, War, and Famine battled X-Factor in Central Park and were defeated by Iceman.[3] After the fourth Horseman, Death, was revealed, Apocalypse had the Horsemen battle each other, to find the leader and Death beat them all.
After Apocalypse teleported X-Factor on his Celestial Ship, they battled the Horsemen again and, after their defeat, the Horsemen were sent into Manhattan to incite chaos. X-Factor and the Power Pack battled the Horsemen and Lightspeed knocked Plague off her flying steed, whereupon she fell to her death.[4]

Powers and AbilitiesEdit
Powers
Plague's immune system made her essentially immune to all known diseases. However, she could be exposed to a disease, alter it to be more lethal, and then spread it by touch. Her power was augmented by Apocalypse to an unknown degree.

ParaphernaliaEdit
Transportation
Plague became the Horseman of Apocalypse known as Pestilence in X-Factor #15.
Discover and Discuss
Footnotes
↑

The same scene was depicted in X-Factor #25 and Power Pack #35, both released the same week.

↑

Marvel Encyclopedia Volume 2: X-Men
---
---