Onslaught Reborn Vol 1 5
Talk

0
107,966pages on
this wiki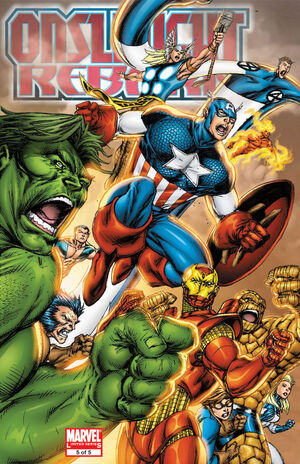 Textless Variant

Bianchi Variant
Previous Issue
Next Issue
—
Appearing in "Courage"Edit
Featured Characters:
Captain America (Steve Rogers)
Human Torch (Johnny Storm)
Invisible Woman (Susan Storm)
Mister Fantastic (Reed Richards)
Thing (Benjamin Grimm)
Franklin Richards
Thor
Hawkeye (James Howlett)
Supporting Characters:
Iron Man (Tony Stark)
Namor
Scarlet Witch
Villains:
Enchantress
Loki
Onslaught
Other Characters:
Locations:
Earth-616
Counter-Earth
Negative Zone
Negative Zone Prison Alpha
Items:
Mjolnir
Captain America's shield
Vehicles:
Synopsis for "Courage"Edit
Synopsis not yet written.
Final issue of series

Bucky (Rebecca Barnes) shunted to Earth-616. Onslaught stranded in the Negative Zone, where he is seen floating past Negative Zone Prison Alpha.
Recommended ReadingEdit
Links and ReferencesEdit