Incredible Hulks Vol 1 629
Talk

0
107,938pages on
this wiki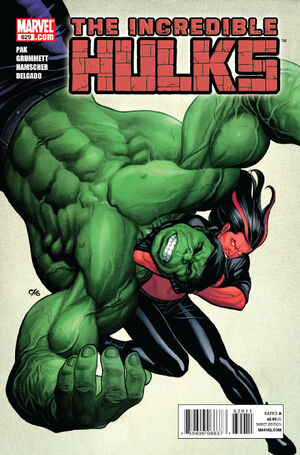 Textless
Solicit
UPC Number
5960606637-62911
Previous Issue
Next Issue
So many promises. Every single time. 'I love you love you love you.' But then the world needs saving. Or smashing. Doesn't matter. Because there you are again. Giant and green and furious and...and this will never, ever change. Hope? No. Hell. So this is it. I can't...she can't... Betty can't take it. So I guess it's up to me. Only problem is...I don't care.
Appearing in "License To Smash"Edit
Featured Characters:
Supporting Characters:
Villains:
Spero (Only Appearance)[1]
Other Characters:
Locations:
Items:
Vehicles:
Knights of Rome's Flying Fortress


Solicit Synopsis:Edit
Spy versus spy meets gamma-powered mayhem as Red She-Hulk (Hulk's estranged wife Betty Banner), partners with a
mysterious villain to steal an ancient artifact of unimaginable power. Now it's up to Banner… Bruce Banner, to save the
world -- and possibly his marriage. But will Secret Agent Banner be able to keep his domestic affairs from turning into an international Hulk-off? It's a story that will leave you shaken, stirred and SMASHED from "Planet Hulk" writer Greg Pak and superstar penciller Tom Grummet!


Recommended ReadingEdit
Links and ReferencesEdit
↑

First and only known appearance to date besides flashbacks