Fantastic Four Vol 1 212
Talk

0
117,346pages on
this wiki
Previous Issue
Next Issue
Like you, I must simply wait and observe the events as they occur...

-- The Watcher
Appearing in "The Battle of the Titans!"Edit
Featured Characters:
Supporting Characters:
Villains:
Other Characters:
Locations:
Items:
Vehicles:
Galactus' Bathosphere Spacecraft


Synopsis for "The Battle of the Titans!"Edit
Terrax wreaks havoc on Manhattan, terrorizing the populace by destroying the very ground they walk on. The Fantastic Four do their best to protect the citizenry before turning their attention to Terrax; but before the battle can get started, Galactus intervenes, chiding his herald for abusing his powers. As the four plus the two aliens reach the Baxter Building, Sue collapses. Reed rushes his now geriatric wife to a stasis chamber in the hope that he can stabilize her condition for long enough to find a cure for the Skrulls' metabolic booster, and agonises over the fact that in arranging Galactus' aid against the Sphinx, he may just have doomed the whole of humanity. HERBIE has used Reed's instruments to track the Sphinx to Egypt, though this is of some concern to Reed who didn't programme the robot for 'independent thought.' Terrax is dispatched to Egypt immediately and the three remaining FF members prepare to follow with Galactus, unaware that back in the Baxter Building the Skrull attacker is stealing Earth's defense plans with the aim of smoothing the way for a Skrull invasion of Earth. The Sphinx meanwhile uses his vastly augmented powers to recreate the physical glory of his ancient Egyptian homeland prior to obliterating the world that has been his prison for centuries. Terrax arrives and attacks the Sphinx, but is easily beaten and about to be ground beneath the Sphinx's heel when Galactus arrives. As the two colossal aliens prepare for final battle, Reed works feverishly aboard Galactus' ship trying to construct a means of subduing the Devourer once the battle is over. Unfortunately Terrax has overheard everything, and now promises the weakened FF they will face imminent death at his hands.


Shooter is credited as consulting editor.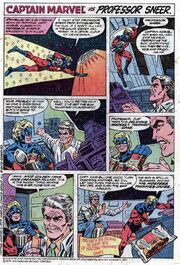 This issue contains a letters page, Fantastic Four Fan Page. Letters are published from Matt Kaufman, Gene Entwender, Chris Clark, and James A. Wu.
This issue is reprinted in the comics and books, see references for more info.[1]

Recommended ReadingEdit
Links and ReferencesEdit
↑ This issue is reprinted in the following comics/TPB's:
---
| | | |
| --- | --- | --- |
| Like this? Let us know! | | |
---