Fantastic Four Vol 1 116
145,508pages on
this wiki
Talk

0
10th Anniversary
of the Marvel Database

A Special Message from Stan!

---
| | |
| --- | --- |
| Sue Richards | The Doctor Doom I remember might be ruthless and cold -- But he had honor and nobility too. Instead I encounter posturing and pettiness -- And perhaps a man a little afraid |
| Von Doom | Hold Susan Richards! Many demons rule Victor Von Doom -- But not those of pettiness and fear! Very well. I am with you! |
Appearing in "The Alien, the Ally, and -- Armageddon! / Now Falls the Final Hour!"Edit
Featured Characters:
Supporting Characters:
Villains:
Other Characters:
Locations:
Items:
Vehicles:
Synopsis for "The Alien, the Ally, and -- Armageddon! / Now Falls the Final Hour!"Edit
With the Over-Mind trying to probe Reed's mind for all it's scientific secrets, he is stopped when Johnny and Ben attack. Meanwhile Sue searches for allies to help them fight the Overmind but finds that there are no heroes around, and that the Avengers are on a mission elsewhere. Petitioning Agatha for aid, Agatha tells Susan that she may find an ally in Dr. Doom, and actually manages to convince the monarch to help them stop the Overlord.
Sue and Doom joining the fight and while Doom assists Johnny and Ben fighting the Overmind, Sue is attacked by Reed, however when Reed almost kills her his love for her makes him snap out of the Overmind's control. As the battle against the Overmind rages on it's suddenly interrupted by the arrival of the Stranger, who claims to be the sum of all the minds of Gigantus come to stop the Overmind for revenge, he then banishes the Overmind to the Microverse before leaving to Earth. After the battle Doom departs, expressing that next time they meet they shall be enemies once more, and the Watcher arrives to advise the FF that the danger has passed.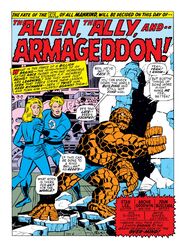 Notes
This issue is a 25 Cent Giant Size Editon. At the end of this issue on the Fantastic Four Fan Page, the Bullpen explains that starting with this month all Marvel comics are increasing in size from 36 pages to 52 pages and increasing in price from 15 cents to 25 cents. However, despite this announcement, starting with the following month, Marvel comics go back to their regular size, but with a 20 cent cover price.
This issue features a letters page, Fantastic Four Fan Page. Letters are published from Tom Steinke, Joel Pollack, Sgt. Michael L. Kuhne, Bob Rozakix and G.B. Tiebe.
As seen on page one, this issue is Story#729-Z.
The Air-Jet Cycle that Sue Richards uses this issue allows its rider/driver to stand. The usual model has the driver/rider in a seated position.

Solicit Synopsis:

Impossible - but true! The new leader of the F.F. is - Doctor Doom! Plus, the sinister Stranger - and the end of the Over-Mind! A shocker!
Trivia
Recommended ReadingEdit
Links and ReferencesEdit
Footnotes
---
---