Eugene Patilio (Earth-616)
Talk

0
117,455pages on
this wiki
Eugene Paul Patilio's father, Vincent, was an inventor who had never created anything successful until he devised electrically powered coils that he then fashioned into a costume and embarked on an ill-fated career as the villainous Leap Frog.
Patilio decided to don one of his father's costumes and use it to become a costumed crime fighter. He began an earnest if somewhat clumsy battle against crime. In attempting to help Spider-Man and the Human Torch, Patilio accidentally succeeded in defeating the criminal Speed Demon. Greatly encouraged by this victory, Patilio named himself "the Fabulous Frog-Man."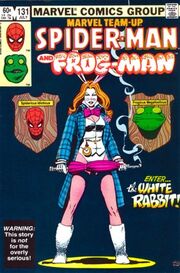 Vincent was proud of his son for capturing the Speed Demon, but his pride turned to disapproval as Eugene continued to serve as a superhero. Patilio assisted, of sorts, Captain America, and later tried unsuccessfully to join the super team Defenders. Afterward, Patilio was encouraged by Spider-Man to join with the Toad and Spider-Kid in forming the Misfits, although they disbanded almost immediately afterward. Most recently, Patilio defeated the villain White Rabbit with the help of his father, who had donned a version of the Leap Frog costume again.
After the Civil War, he was listed as a potential recruit for the Initiative,[1] and was recruited into the Action Pack team.
During Spider-Island, Frog-Man helped The Avengers to defeat Flag-Smasher and U.L.T.I.M.A.T.U.M., who were attacking the U.N. at the moment.

Powers and AbilitiesEdit
Powers
ParaphernaliaEdit
Equipment
Suit equipped with electrically powered leaping coils that allow him to reach a height of 6 stories per jump.
Unofficial Handbook of the Marvel Universe
Gamers' Handbook of the Marvel Universe
Discover and Discuss
Footnotes
---
| | | |
| --- | --- | --- |
| Like this? Let us know! | | |
---