Excalibur Mojo Mayhem Vol 1 1
Talk

0
130,029pages on
this wiki
Previous Issue
Next Issue
—
—
Comic Book Showcase
Episode 17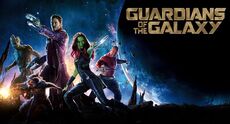 Guardians of the Galaxy

---
Comes of having Spines. Standing erect gives 'em Airs above their Station...

-- Mojo
Appearing in "Mojo Mayhem"Edit
Featured Characters:
Supporting Characters:
Villains:
Mojo's Trademark Police
Tracker Tiger
Other Characters:
Emma Bull
Chris Claremont
Mike Lake
Locations:
Items:
Vehicles:
Solicit Synopsis:Edit
A British Royal is getting married! Excalibur are among the guests! Wait'll you see who crashes the bash! We'll give you a hint: Mojo and the X-Babies!


Takes place during Excalibur #10 and Excalibur #11.
Reprinted in Excalibur Classic Vol 2 in 2006
The Big Building on Page 5 has the Titles of a lot of Stories/Concepts from both, Marvel and DC, on it: Evolutionary War, Atlantis Attacks, New Universe, Secret Wars and Secret Wars II from Marvel, Crisis, Legends and Invasion from DC
Kitty likes the Books of Anne Rice, she is reading "The Mummy" here
Kitty likes Jazz Music, her favorite Band is Cat's Laughing
A Lila Cheney-Jacket is hanging in Kitty's Train Compartment
Kitty and the X-Babies are running into a rather big Woman by the Name of Amanda Wall (another Persona of the Agent) at Euston Station, probably a pun on DC Comics' Amanda Waller, only this Woman here is not Afro-American

Recommended ReadingEdit
Links and ReferencesEdit
---
---