Captain America Vol 6 1
Talk

0
137,486pages on
this wiki
Previous Issue
Next Issue
—
10th Anniversary
of the Marvel Database

A Special Message from Stan!

---
Appearing in "American Dreamers: Part 1"Edit
Featured Characters:
Supporting Characters:
Villains:
Other Characters:
Locations:
Items:
Vehicles:
Synopsis for "American Dreamers: Part 1"Edit
Steve Rogers, Sharon Carter, Nick Fury and Dum Dum Dugan have come to Paris to attend the funeral of Sharon's Aunt Margaret/Peggy. But while they are reminiscing, somebody starting shooting at them. Rogers goes in pursuit and finds the would-be assailant is someone he once knew from 1944 and states that, "I think Jimmy Jankovicz has woken up...."
In a flashback to Paris, 1944, the assailant (Codename: Bravo), Dum Dum, Peggy, Fury and Rogers are secretly discussing sighting of Baron Zemo hanging around a group called Hydra and developing new weapons for the Nazis to use in the war. Therefore, they decide to launch a two-pronged attack on the enemy base. And their ace-in-the-hole is Jimmy Jankovicz/Jimmy Jupiter.
In the present, at a top secret government facility in Viginia, Fury is talking with a doctor that Jimmy just recently woke up from a coma and is currently catatonic. They all then discuss why Bravo has comeback.
In 1944, Bravo and Peggy are kissing but the latter breaks it off. Bravo figures that she's still fallen for Rogers because he's a supersoldier and spots the two kissing on the ground.
In the present, as they leaving the facility, before Fury can fully explain about Bravo, they are attacked by what appears to be a hit squad wearing modified Hydra suits. Luckily, Rogers had the shield on his back, which protected him, before he starts throwing the shield and knocking out all the assailants. He then tackles Sharon out of the way before a car runs her over. And in the back of the car is Jimmy. Fury then realizes that this was all a set-up, to allow the enemy to locate Jimmy. Sharon asks Rogers why Bravo would be working with Hydra and if something really went wrong on their mission.
Elsewhere, Bravo calls his men to take Jimmy to a safe house. He then walks in a house to talk with Baron Zemo to plot revenge against Captain America.


No special notes.

Solicit Synopsis:

Bestselling Cap writer Ed Brubaker and superstar artist Steve McNiven bring you the next huge chapter in Steve Rogers life, and it's a perfect jumping-on point for fans of the Cap movie. A funeral for a fallen friend turns into a race against time as the original Captain America makes his explosive return!
Recommended ReadingEdit
Links and ReferencesEdit
---
---
Reviews
Weekly Video Review
This review is of Captain America Vol 6 #1, and I gave it a 5/5.
Plot or ending details follow. Please skip this section if you do not want foreknowledge of this plot.

Spoilers in the video! Read the book before watching, you'll be glad you did. :)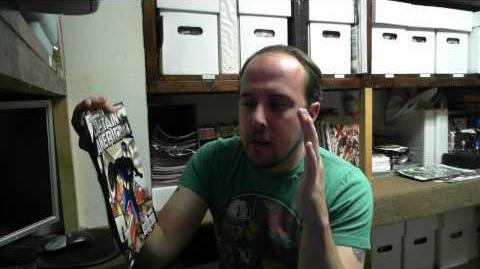 — Nathan (Peteparker) (Earth-1218) (talk • contribs • email) 21:48, July 15, 2011 (UTC)