Bugman (Earth-616)
143,641pages on
this wiki
Talk

0
10th Anniversary
of the Marvel Database

A Special Message from Stan!

---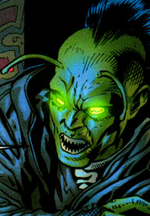 ...[1]
Bugman lost his mutation as a result of M-Day. He was excited to revert to a handsome human appearance with the possibility of finally scoring with the ladies.[2]

Powers and AbilitiesEdit
Powers
Previously, his insect-like mutation gives him green skin, iridescent yellow eyes, and small antennae.
Discover and Discuss
Footnotes
---
---