Avengers Academy (Earth-616)
Talk

3
108,029pages on
this wiki
Instructors:
Giant-Man (Pym), Hawkeye (Barton), Hercules, Jocasta, Quicksilver, Tigra


Students:
Batwing, Butterball, Finesse, Hazmat, Hollow, Lightspeed, Loa, Power Man (Alvarez), Reptil, Ricochet (Gallo), She-Hulk (Lyra), Spider-Girl, Striker, Thunderstrike (Eric), Turbo (Musashi), White Tiger (Ava), Wiz Kid, X-23
Origin
History
Origins
As the head of H.A.M.M.E.R., Norman Osborn recruited young people with superpowers in order to make them the next generation of superheroes under his control. So, he pushed and tortured them in order to develop their powers. Once Norman was out of power, the Avengers went through his files and found the most dangerous, those who have failed their psych profiles, and who had the power to destroy city blocks. The Avengers determined to train these kids to prevent them from becoming dangerous supervillains.[1]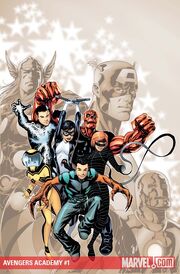 They formed the Avengers Academy, similar to the Initiative program, where veterans teach youngsters to become new heroes. Unfortunately, while trying to conceal the fact that they are trying to prevent the students from going rogue, fearing that they may internalize it, the students find out.[1]
Going Public
Months later the team went out in public as their normal selves (except for Hazmat and Mettle, who were shrunk down in Dr. Pym's pocket). Whirlwind then showed up and attacked a bystander which made Henry Pym attack and also to avenge Wasp. Whirlwind was then soon put down and the identities of the Avengers Academy students became public.[2]
Fear Itself
When the Serpent invaded Midgard, the students of Avengers Academy found themselves under attack by two of the Worthy. The Infinite Mansion was destroyed and the students were deployed to the front lines in Washington D.C.
In the aftermath, Veil left the student body while Justice and Speedball resigned their positions as teachers.[3]
The Academy opened up the student body to a wider crowd.[4]. The Academy reopens its doors at the Avengers West Coast former base Avengers Compound. When the school reopened most of the original students felt they were going to be kicked out, which caused a fight to between the original class and Luke Cage, Captain America, and Hawkeye. The fight ended after Jocasta temporarily stunned everyone and explained what was really going on. The students then took a break calm down, meanwhile Hawkeye decide to ask Pym if he could join as a staff member. After calming down the original students met the two new regular students White Tiger and Lightspeed. The meeting was cut short after Quicksilver showed up and told everyone that someone has "murdered" Jocasta. Upon hearing everyone gathered around her destroyed body in shock. While everyone gathered Reptil sent a message a to alternate future where the future versions of the original Avengers Academy class resided, which revealed that Reptil's body was being possessed by his future self .
Avengers Academy
Paraphernalia
Equipment: None known.
Transportation: Quinjet
Weapons: None known.
Notes
Trivia
See Also
Links and References
Footnotes